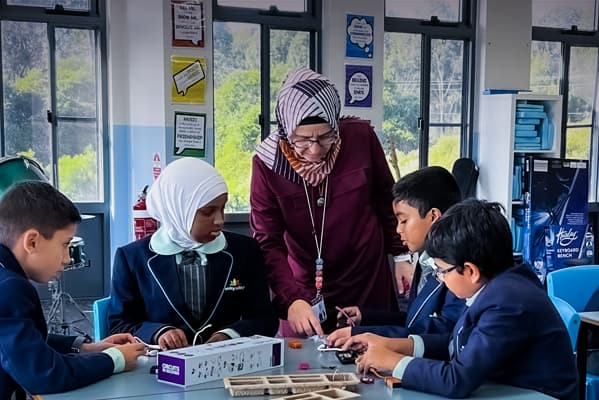 Student Services
Learning Support
At Amity College we strongly believe that every student should be receiving high quality education and that each individual is nurtured and challenged regardless of their capabilities. We also believe that education should be equitable for all; that there should be no obstacles to any student reaching and achieving their full potential.
Our class teachers differentiate in the classroom and provide the necessary adjustments to enable students to achieve their learning outcomes. Some students, however, may require further intervention and support, and this is where our well-established Learning Support department plays a vital role.
Intervention to students' learning may take many forms; however early intervention is the key to ensuring outcomes are reached. It is crucial that any issues impacting a student's learning are addressed early to ensure necessary support systems are put in place. Hence Learning Support at Amity College encompasses a range of services starting in Primary School and extending to High School.
The following services are provided in Primary:
MultiLit Reading Intervention Programs
– The MiniLit and MacqLit Reading Intervention Programs are intensive, small group, Tier 2 response to intervention programs delivered to students who haven't developed the required literacy skills in their first year of formal schooling.
In-class Learning Support
– Every class receives in-class support from Teacher's Aides and/or Learning Support Teachers, who provide 1:1 or small group assistance.
Mathematics Enrichment Program
– Selected students in Stage 3 (Year 5 and 6) are provided with additional Mathematics enrichment to extend their learning beyond the classroom.
- The following services are provided in High School:
- Assessment Differentiation
- Curriculum Differentiation
- HSC Provisions
- In-Class Tutor Support
- Individual Assessment Support
- Individual Learning Plans
- Literacy Support
- MultiLit Program
- Social Skills Support
- Team Teaching
- Transition to Work

Amity College thrives on establishing strong school-home partnerships. To this end, the Learning Support teams work closely with teachers and parents to ensure that students are provided with the best possible education to meet their needs. Where relevant, they may arrange parent meetings to discuss student progress, or liaise with external agencies if there is a need.
Amity College is committed to working collaboratively and providing necessary support to ensure every student has access to quality education and that no child is left behind.
Support for New Arrivals
– At Amity College we understand how even the slightest change can impact a student's education, let alone arriving in a new country. New arrivals to Australia are faced with many challenges as they adapt to life in a new country, hence we believe that providing the necessary educational support for these students is of utmost importance. Support for new arrivals is provided through the College's Learning Support programs.