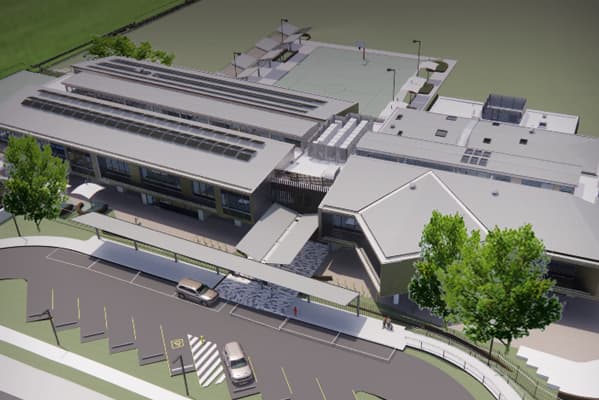 PROJECT LOCATION
Amity College Leppington Campus
85 Byron Road Leppington NSW 2179
CONTACT PERSON
For project development enquiries or complaint lodgement, you can contact the School representative, Recep Aydogan, via email with [email protected] or by phone (02) 8784 3111.
Welcome
Executive Principal's Message
It is with great excitement that we announce the opening of our new Leppington Campus with state-of-the-art facilities at the start of 2024. Our purpose-built school is designed to deliver quality education to students from Kindergarten to Year 12, with the first stage accommodating up to 300 students in a primary school complex. When completed, Leppington campus will accommodate 1,000 students from Kindergarten to Year 12. Please refer to the master plan and stage 1 which is attached to this letter.
Stage 1 of the Leppington campus features state-of-the-art facilities, including 12 classrooms, a library, art room, music room, staff rooms, mini auditorium, multipurpose rooms, pastoral care rooms, sports oval, and play spaces. The wide range of facilities, amenities are designed to create an environment that encourages creativity, innovation, and academic excellence. This stage will open in 2024.
Furthermore, I am thrilled to announce that Amity College has been awarded $11.7 million from the Westinvest Fund to deliver the $14.3 million Amity College Leppington Campus - Stage 2 project. This funding will enable us to expand our campus and provide even more leading-edge facilities for our students. We are grateful to the State Government for awarding this grant to our school and thank them for their ongoing support.
Stage 2 of the project includes a primary school hall, 10 classroom learning center, bus bay, footpaths, road construction and associated infrastructure, a school oval, passive play spaces, a community garden, and an adventure playground that will be made available for use by the school community.
We will be accepting Kindergarten, Year 1, Year 2 and year 3 applications for 2024 and progressively add new year levels in the following years. On this note, we kindly ask you to let your friends and relatives know and advise them to contact us if they are interested in enrolling their children at our Leppington campus.

Mehmet Koca
Executive Principal
Amity College
LEPPINGTON CAMPUS 3D TOUR
DEVELOPMENT PROGRESS SUMMARY
Amity College is pleased to announce the plans to construct a  new school located at the intersection of Byron Road and Pluto Road Leppington (near the Ingleburn Road intersection).
The complex will be a coeducational school comprising a 3-stream primary school and a 3-stream secondary school with a maximum capacity of 1,000 students. This project has received development approval as a state significant development by the Department of Planning in July 2020. The College hopes to open the primary school facilities in 2024.
Project received development consent on July 2020.
Site remediation has commenced December 2020 and completed July 2021.
DA modification consent for revised and accelerated staging with minor room configuration and faced change approved 30 July 2021.
Early works package including site clearing, site reshaping (bulk earthworks) and excavation of car park August 2021 – November 2021.
Tender for Stage 1 construction closed in October 2021, tender to awarded to Lloyd Group Pty Ltd in January 2022.
  DA s4.55(1a) minor modification consent approved 27 January 2022 for:  raised roof ridges, screening of rooftop plant, lift overrun and solar panels, additional external entry staircase to library  and minor changes to the terraced courtyard layout
Stage 1 construction works contract signed with Builder (Lloyd Group) Feb 2022, and construction commenced Mar 2022. Refer below for progress.
Early Works Description:
The early works tender package comprises the following:

■ Clearing of vegetation on the site.
■ Re-shaping the site, bulk earthworks.
■ Construction of sediment and erosion control devices and stormwater drainage measures.
■ Excavation work including Primary School basement car park area.
■ Creation of stockpiles and importation of approved fill to the site. Provision for construction parking and construction compound.
Stage 1 Works Description:
The revised Stage 1 of the School project involves accelerating Stages 1-4 of the following:

■ Construction of a new Primary School building complex, fronting Pluto Avenue.
■ Construction of basement car park under the Primary School building.
■ Provide accommodation for up to 300 students in a new primary School building complex.
■ Provide 45 car parking spaces in a basement car park.
■ Provide 17 pick up/drop off area at the front of the new Primary School.
■ Provision of substantial areas dedicated to open space, landscaping, and school student play areas.
Stage 1 Progress :
Stage 1 contract was signed with Builder, Lloyd Group in February 2022
Builder has progressed with site establishment and set-out  during Feb/Mar 2022
Heavy rain has hampered project progress Mar/Apr
Builder has completed basement concrete pour May 2022
Builder has progressed with ground floor formwork and Dincel wall installation for Basement car park June 2022
Completion of formwork for ground floor slab July 2022
Completion of concrete floor for ground floor slab, commence formwork for first floor slab Aug 2022
Continue forming of first floor, service roughing to deck, installation of precast panels, stormwater works Sep 2022
Completion of concrete pour first floor, commencement of structural steel framing, commencement of OSD tank, completion of subgrade to driveway Oct 2022
Continue Level 1 structural steel framing, formation of stairs and seating, continue OSD tank construction, commencement of Pluto Road works Nov 2022
Continue Level 1 structural steel framing, stripping of formwork, continue service works to basement and ground floor, completion of OSD tank construction, continue civil works to drop-off area and Pluto Road works Dec 2022
Completion of Level 1 structural steel works, continue service works to basement and ground floor, backfill temporary OSD, continue civil works to drop-off area and Pluto Road works and external stormwater works Jan 2023
Lloyds Group, the builder, went into voluntary administration on 31 March 2023 with the administrator informing the school they cannot fullfil the building contract. The construction site was temporary closed for three months.
Amity College appointed Grindley Interiors Pty Ltd as the builder under cost-plus construction management contract in June 2023. During June-July Grindley concentrated on subcontract procurement and mobilising trades to return to site.
During August-September the construction has returned to full momentum with roof completed, commencement of cladding, roughing of electrical, mechanical haydraulic works and external hard landscaping in progress.
During October the construction works included 90% completion of external Pluto Rd roadworks, 75% of external cladding, 75% installation of glazing, sewer connection, water mains connection and substation installation.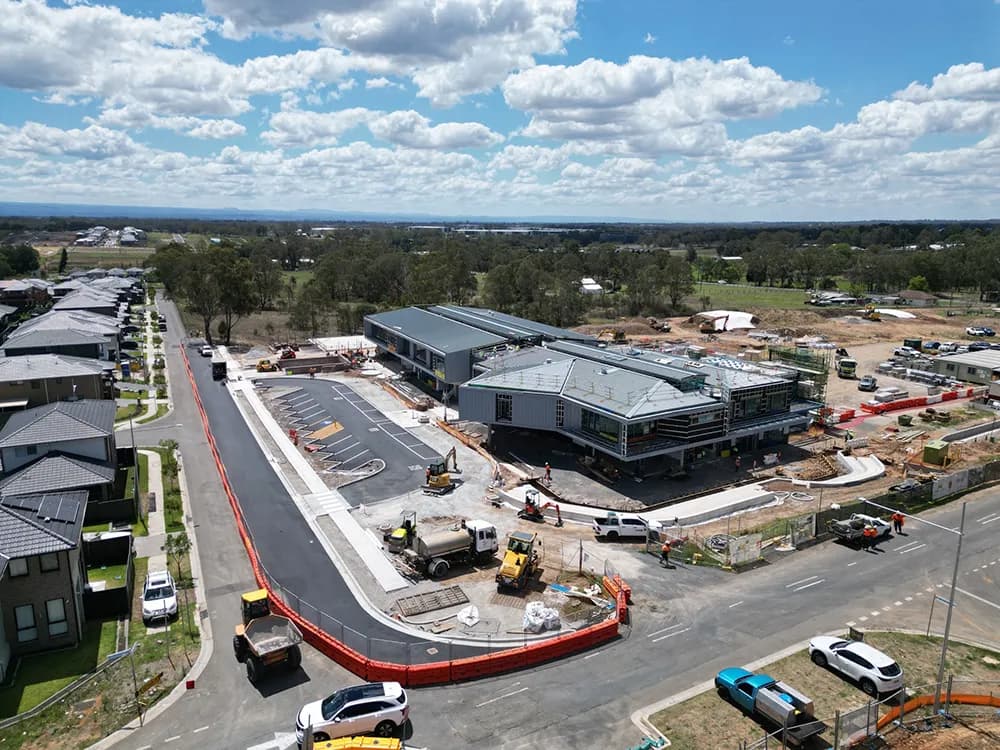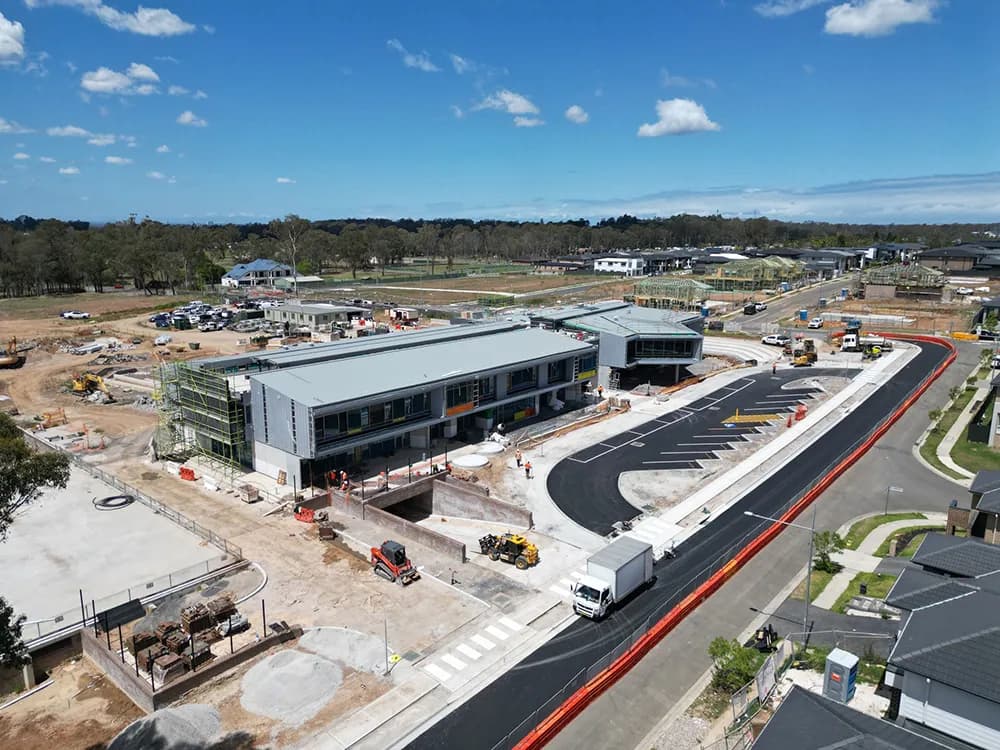 STATUTORY APPROVALS AND PLANS
All the statutory approvals and plans for this project can be viewed the Department of Planning's major projects website with the following link:
The links  below contain all approved plans and consents.
Determinations :
POST APPROVAL DOCUMENTATION
Post approval documents are uploaded to Major Projects website refer to attached link:
MANAGEMENT PLANS, COMPLIANCE MONITORING
Refer to below documents:
Notifications & Other:
Environment Reporting:
COMMUNITY CONSULTATION
As part of the approved plans there will be opportunities for community consultation please refer to below documents :
COMPLAINTS REGISTER
For project development enquiries or complaint lodgement you can contact the School representative, Recep Aydogan, via email with
[email protected]
Please find attached