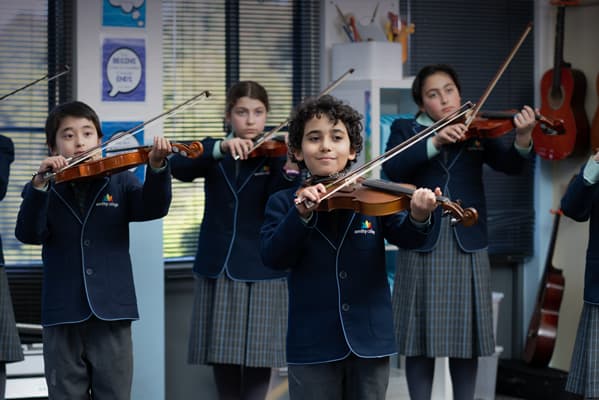 About Us
About Amity College
Bringing Amity into your life
Amity is all about creating bonds and nurturing positive relationships that will effectively inspire progress, explore the heights of human potential and achieve success. This is the founding philosophy of our school and is what drives it to new levels of accomplishment in all dimensions every day. The vision of Amity College is to raise healthy and happy individuals with strength of mind, body, character and spirit who will not only excel beyond their personal best but also become leaders in their respective fields, enlightening the global community.

Being a multi-campus, non-denominational independent school, we welcome students from all backgrounds, and appreciate and celebrate the diversity they bring into our school community. Our enthusiastic and compassionate staff foster a love of learning and encourage critical thinking, setting the foundations for academic excellence through a rich and challenging curriculum. These foundations are enhanced through extra-curricular activities and pastoral care initiatives, nourishing our students as well-rounded individuals.
We are committed to preparing leading generations who are inquisitive, knowledgeable, caring and contributing members of our local and global communities. This can only be accomplished through the collective responsibility of our staff, students, parents and the wider community.
Come and experience Amity College, and become a part of our ever growing and ever evolving community.

Knowing who you are is just as important as what you know
In all aspects of learning at Amity College we emphasise honesty, integrity, respect, freedom and many other moral and ethical values. Our Pastoral Care initiatives are designed to provide students with intellectual, personal, emotional and social nourishment. Discussion groups, after-school activities and term camps are organised by dedicated staff to allow students to establish a firm sense of identity and belonging.
We encourage our students to connect with the wider community through joint activities such as Multicultural Day, ANZAC Day, Harmony Day and Youth Encounters, as well as interstate and international trips.
As a result, our students are given invaluable opportunities to establish firm, enduring friendships and connections with other students.
Our endeavours to raise empathetic and conscious students who are always prepared to help people in difficult circumstances has established a culture of concern for the broader community through local and global social-justice projects.
We enable our students to not only learn but also put into practice the school's values through various leadership programs.

We love to teach; they love to learn
Amity College has earned a strong reputation for academic achievement with consistently excellent results, particularly in the Higher School Certificate. As one of the leading schools in the region, we emphasise assisting students through effective Learning Support (K-12), including our unique In-class Tutoring Program and extra classes for High School.
Our STEM (Science, Technology, Engineering and Mathematics) initiatives in Coding, Robotics, Advanced Science and Maths have been paramount in enhancing the skills and confidence of our students. Through initiating and hosting the annual state-wide Maths Cup, we bring together the brightest minds in STEM.
Academic excellence is enhanced through cultivating our students' interests and abilities beyond the classroom.

Every child is an artist.
Every individual is talented and needs opportunities to discover and exhibit their creativity. Visual and Performing Arts is a vibrant and dynamic feature of our school, with students unearthing their skills in classical and contemporary art forms.
Our annual High School Arts and Culture Expo reveals the kaleidoscope of diverse creative instincts and skills of our students for the enjoyment of the entire school community.

Your child's future starts here.
We believe making the right choice for your child's education is your most important decision as a parent.
If you would like more detailed information please visit our enrolment page.

…in hardship and success
Access to quality education is every child's right and every success needs to be celebrated.
There are a range of scholarships available to new and current students for distinguished academic, sport and art achievements as well as those experiencing financial difficulties.
If you would like more detailed information please visit our scholarships page.